Vanuatu Business Review » Deployment of new climate monitoring buoy network begins
Deployment of new climate monitoring buoy network begins
June 18, 2022 10:39 pm | Posted in Business News | Share now TwitterFacebook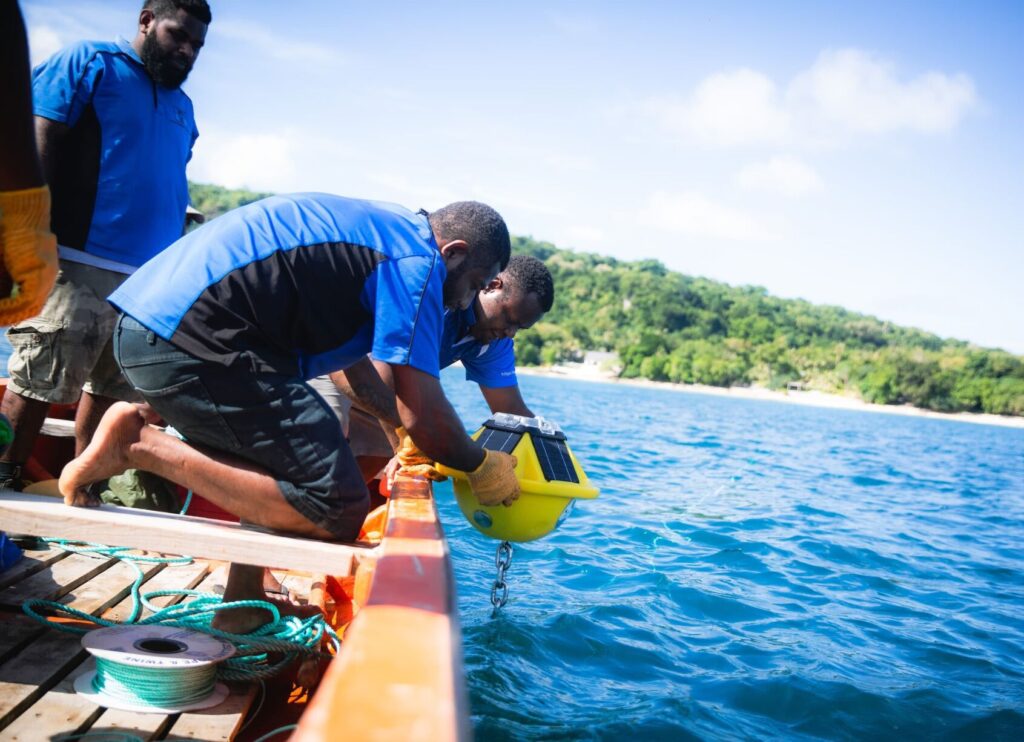 Coastal communities around Vanuatu will gain advance warning of changes in sea temperature that could impact the health of reefs and coastal fisheries under their care, thanks to a new network of ocean climate monitoring buoys that began rolling out this week.
The first of six buoys to be installed nationally was deployed in waters between Ifira and Pango Point last Tuesday by the Vanuatu Klaemet Infomesen blong Redi, Adapt mo Protekt (VanKIRAP) Project and the Department of Fisheries (DOF).
The buoys are equipped with sensors that constantly measure the temperature of the sea water around them and then send this information back to Department of Fisheries, Vanuatu Meteorological and Geo-hazards Department and VanKIRAP monitoring staff via satellite.
This continual access to sea surface temperature information gives VanKIRAP and Department of Fisheries the ability to quickly advise nearby communities should a sudden temperature increase occur. Such increases can indicate that a marine heat wave event is about to happen. The buoys also record wave and wind data.
Marine heat waves are climatic events where the temperature of the ocean gets much higher than normal. They can last for weeks to months and can be caused by sudden changes in local weather. Since 1982, however, they have doubled in frequency due to climate change. Oceans have absorbed 90% of the excess heat human activity has pumped into the global climate, so marine heat waves are likely to get longer and more intense from now on.
Marine heat waves cause fish kills, coral bleaching, ciguatera fish poisoning and outbreaks of crown of thorns starfish, which may severely affect a community's access to fish. Giving communities advance warning of marine heat wave events allows them to prepare for and respond to such events.
"The temperature information that these new buoys provide will be especially useful for people who use the sea every day for their livelihoods, like fishers, divers and reef pickers", said Jayven Ham, Principal Fisheries Biologist for the DOF and Acting Fisheries Sector Coordinator for VanKIRAP.
"Having this data also means that the DOF can instantly see what impact climate change is having on the management of our coastal fisheries, and make changes to our coastal management plans for the benefit of affected communities," he added.
The other five buoys will be deployed over the coming weeks off Malekula, Espiritu Santo and Aneityum.