Vanuatu Business Review » Over 100 Vanuatu Healthcare Facilities to receive improved WASH Facilities through Japan and UNICEF
Over 100 Vanuatu Healthcare Facilities to receive improved WASH Facilities through Japan and UNICEF
June 18, 2022 11:01 pm | Posted in Business News | Share now TwitterFacebook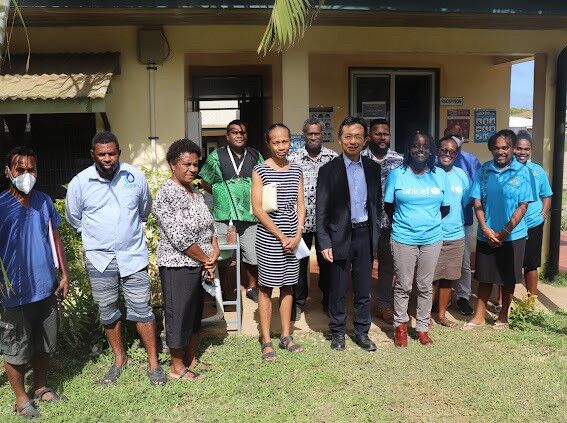 More than 100 Healthcare facilities in Vanuatu will receive improved Water Sanitation and Hygiene (WASH) facilities through Japan and UNICEF, to strengthen the fight against infectious diseases in the country.
On 16 June, Japanese Ambassador to Vanuatu Chiba Hirohisa, together with government officials from the Department of Water Resources (DOWR), Ministry of Health (MOH), SHEFA Provincial Health, and UNICEF, visited the newly installed water sanitation and hygiene facilities at the Ex-FOL Sporting Complex, the Vila Central Hospital (VCH), and the Vanuatu College of Nursing Education (VCNE).
Installations included 10 showers, five portable toilets, and 16 hand washing stations at strategic locations. This ensures that Vanuatu is prepared for any future COVID-19 outbreaks as well as evacuations in the case of tropical cyclones or floods. All this has been possible through the partnership between the DOWR, UNICEF and financial assistance through a Government of Japan grant.
As part of the same grant assistance, Japan and UNICEF will continue supporting improvements to WASH facilities, in over 100 healthcare facilities to strengthen the fight against infectious diseases in Vanuatu. The initiative will progressively equip healthcare facilities with essential equipment for infectious disease control.
According to a study by the Vanuatu MOH and UNFPA in 2020, only 2.5% of the 159 healthcare facilities in Vanuatu have access to an improved water system and 8.2% have access to improved toilets. In addition, 58% of facilities do not have adequate disposal system for hazardous waste. WASH facilities are essential for proper infection prevention and control (IPC) in healthcare facilities. Access to portable water supplies, and clean safe sanitation facilities are also necessary.
"Hand washing is fundament to COVID-19 prevention and other infectious diseases outbreaks," Ambassador Chiba stated.
"This initiative will provide WASH facilities like access to an improved water system, sanitation, and hazardous waste disposal systems at strategic medical and health care facilities throughout the country.
"Japan, in collaboration with UNICEF, and in cooperation with the MOH and the DOWR, will provide sequential support in the provinces across the country," Ambassador Chiba said. "Ex-FOL, VCH, and VCNE, which we visited, are parts of this initiative.
"The improvement of WASH infrastructure is meaningful from the lessons learned through the recent Omicron infection in communities of Vanuatu. In addition, it is effective as well as to control new waves of outbreak, other new mutations, and infectious diseases like influenza. This is even more timely as Vanuatu moves towards the border reopening on July 1.
This tour was also attended by Dr Serena Natuman, Acting Director of Curative and Hospital Services, and Dr Jenny Stephens, Acting Director of Public Health from the MOH, Mr. Clifford Vusi from the DOWR, and other government officials.
Japan has supported Vanuatu with the provision of COVID-19 vaccines through the COVAX Facility and supplied solar refrigerators and freezers for efficient deployment of the COVID-19 vaccine throughout the country in collaboration with UNICEF. As part of this package of support, Japan has continued to provide support in the field of health and medical care, including the provision of various types of medical equipment to the VCH and other hospitals throughout Vanuatu.
"We continue to be a genuine partner to the country in providing support for the protection of the health and wellbeing of the people of Vanuatu," Ambassador Chiba said. This initiative will be implemented in phases until 2025. It is expected that about 200,000 people in Vanuatu will benefit from the WASH improvements at the healthcare facilities.