Vanuatu Business Review » Red Cross aids families affected by flooding
Red Cross aids families affected by flooding
May 24, 2022 12:07 am | Posted in Business News | Share now TwitterFacebook
By Jason Abel.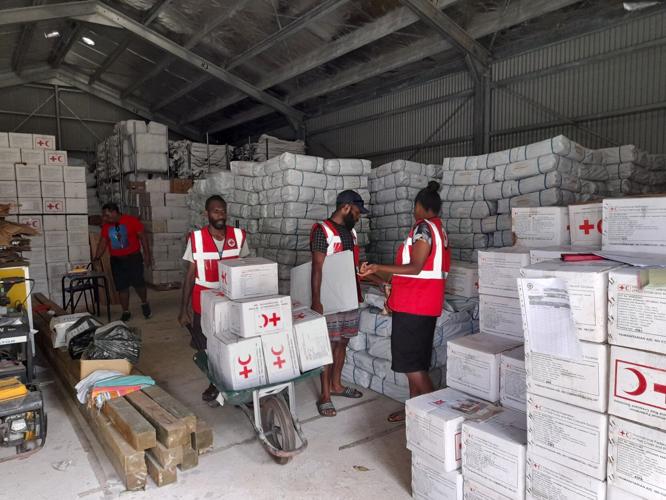 The Vanuatu Red Cross Society (VRCS) donated disaster relief equipment to support eight households displaced by severe flooding bought about by Tropical Cyclone (TC) Gina last Saturday.
The families resided at the end of the airport runway towards the Mele village community.
The VRCS confirmed a total of 48 beneficiaries received relief assistance from the VRCS, in collaboration with the SHEFA Provincial government disaster office.
VRCS Augustine Garae, VRCS Disaster Management Coordinator stated the assistance targeted families who were victims of the flooding. He said the eight families lost all their property in the heavy flooding.
They identified the affected displaced families through an assessment and supported them with food rations, food utensils, blankets, sleeping mats and mosquito nets.
He added that SHEFA Provincial government authorized the Vanuatu Mobile Force (VMF) to assist the displaced families to the Wan Smol Bag (WSB) compound.
Mr. Garae mentioned that VRCS disaster team recommended the families relocate to another site to avoid future situation. He confirmed that the National Disaster Management Office cited the area as a disaster-prone area. However, Mr. Garae commented that other relevant authorities are the ones to enforce such actions.
The displaced families will soon return back to their residential areas in the coming days.
The SHEFA Disaster Office has also been carrying out disaster awareness within the areas in the past. It will be a conducting a disaster awareness today (Tuesday) morning at the WSB, with an aim to support the surrounding communities.