Vanuatu Business Review » SANMA communities receive water tanks from Save the Children
SANMA communities receive water tanks from Save the Children
June 22, 2022 10:01 pm | Posted in Business News | Share now TwitterFacebook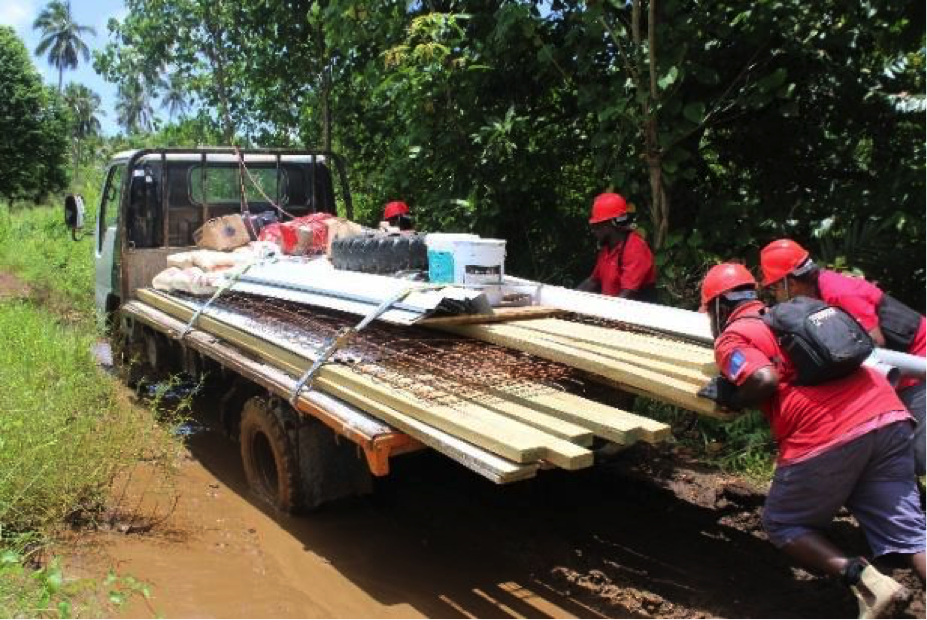 22 communities in SANMA Province received complete water rehabilitation projects and sanitation at Evacuation Centers last week.
These were proudly handed over by Save the Children Vanuatu (SCV)'s Disaster READY Program, supported by DFAT through the Australian Humanitarian Partnerships (AHP).
SCV has a presence in SANMA, specifically in the community of Canal Fanafo Area Council in Santo and East Malo Island Area Council.
12 of the recipient communities are in Malo and 10 at the Canal Fanafo Area Council.
Disaster READY Program aims to deliver community-based disaster risk reduction (CBDRR) activities.
With Vanuatu being the world's most at-risk country for natural hazards, in 2017 — all AHP partners like Save the Children, CANDO, Oxfam, Care international, Action Aid, and World Vision came together with the National Disaster Management Office (NDMO) and other partners and decided to put some resources together to assist the Government to ensure our communities are resilient to disasters and climate change issues. The objectives of Disaster READY is to ensure, firstly, communities are better prepared for rapid- and slow-onset disasters, and secondly the rights and needs of women, people with disabilities, youth and children are being met in disaster preparedness and response at all levels.
The third aim is for the government, NGOs, the private sector, and communities coordinate more effectively for inclusive disaster preparedness and response on the ground.
On 15th of June 2022, SCV's Disaster READY Program officially closed out the 5-year Disaster READY 1.0 Program in the communities. Disaster READY program after handing over all the Community Disaster Climate Change Committee (CDCCC) and their activities back to the Area Administrators, and the CDCCC representatives.
The 10,000 litre and 6000 litre water tanks were to address the need in these communities in accessing clean water nearby and having experienced drought as an underlying issue in their areas over the past years.
In the community of Naviova in Malo, young school children (age 4-5years) would travel long distances to access the nearest school and with limited water.
This was always a struggle for them, especially mothers as they would have to get these children ready for school to walk a long distance then return home and gather clean water to cook, wash and drink every day.
This issue of accessing water nearby had a ripple effect in their daily livelihoods and the need for clean accessible water stood out in their Community Action Plan (CAP) Projects and SCV was happy to assist with this.
Alongside the need for water, the community in Naviova also had education in their CAP Projects. When COVID-19 hit in February this year, it affected most communities, but the people in Naviova community had a strong will to ensure their children have access to education (and clean drinking water nearby).
The entire Naviova community (men, women, youth, and children) worked together to build a pre-school learning space and water catchment for their children through CAP Project materials donated by SCV.
When the SCV Disaster READY team went to hand over the water tanks and classroom to the Naviova Community this week, a young boy approached the Disaster READY Program Manager and whispered, 'thank you', for the water tank and classroom that was built.
The DRR Program Manager, Mr. Jelson Naparau, expressed his gratefulness saying, "This simple whisper from this child brought me into tears, it speaks louder than a thousand words, and with gratitude to SCV's Disaster Ready Team and the Field Manager for all their efforts despite challenges and most importantly to DFAT and the Provincial Government through the Area Administrators for their continued support to the communities throughout this pandemic."
A community member at Canal Fanafo (Stone 1 Hill community), Kalsis Antoine shared, "for a long time, we have had issues in accessing clean water. Some households have a small water tank, or we often collect water from a small river nearby but this water tank we have now will help us much more. I would like to say thank you for helping our community, you all have made life much easier for us that we can access clean drinking water."
SCV is excited to work with the CDCCCs in all 22 communities in both Canal Fanafo and East Malo Area Council, especially their children, and thanked the Area Council for partnering together with the community in keeping this a safe place and space for children in the area.
Finally, SCV also acknowledged DFAT for supporting Disaster READY through the AHP and looks forward to more collaborative initiatives to address community projects as such for the communities, especially children in Vanuatu.