Vanuatu Business Review » Upskilling young people through 'TVET in School'
Upskilling young people through 'TVET in School'
June 10, 2022 10:58 pm | Posted in Business News | Share now TwitterFacebook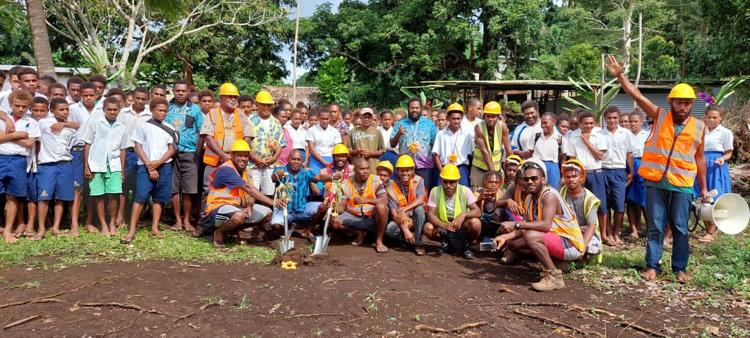 A groundbreaking ceremony for the first ever 'TVET in School' building for TORBA Province has been held at Losalava Junior Secondary School on Gaua.
'TVET in School', an initiative to engage and upskill young people in construction training opportunities at schools, resulted from a strong collaboration and co-investment between the Anglican Church of Melanesia Vocational Education Technical School (ACOMVETS), Losalava Junior Secondary, TORBA Provincial Education Office, East/West Gaua Area Council, Vatsur Council of Chiefs, Gaua's councilor, TORBA Skills Centre, Vanuatu Skills Partnership (VSP) and the Ministry of Education and Training (MOET).
VSP stated that this initiative will not only enable TORBA Province to strengthen its commitments to upskilling its young people for the development of the province, but the builders contracted to construct the building were themselves trainees of a previous construction project in Gaua, supported through the Skills Centre.
"The graduates, who undertook the construction of the Gaua Market House, simultaneously worked towards the achievement of a nationally recognised Certificate II in Construction through a partnership between the Skills Centre and the ACOMVETS Torgil campus," VSP stated.
"Following their completion of the training, the trainees, along with the East Gaua Area Council, and with the support of the Skills Centre, mobilised to create a local construction company – GOU Constructions — which has now been engaged for this latest infrastructure development in the province.
"This is outstanding example of the power of partnership and local capability to make decentralisation a reality and bring skills, entrepreneurship and improved service delivery to our communities in the outer islands."
Chief Executive Officer (CEO) of ACOMVETS, Father Willie Ben Tabi, said "The construction of the Losalava TVET in School means that there will be six campuses under ACOMVETS delivering high quality skills training across Vanuatu.
"Each campus delivers different accredited courses and levels of qualifications, depending on demand and community priorities. This is part of our contribution to ensuring formal training delivery in rural settings, in line with the Government's decentralisation policy and the National Sustainable Development Plan."