Vanuatu Business Review » Vango sees light at end of tunnel after Public Finance Workshop
Vango sees light at end of tunnel after Public Finance Workshop
June 21, 2022 9:45 pm | Posted in Business News | Share now TwitterFacebook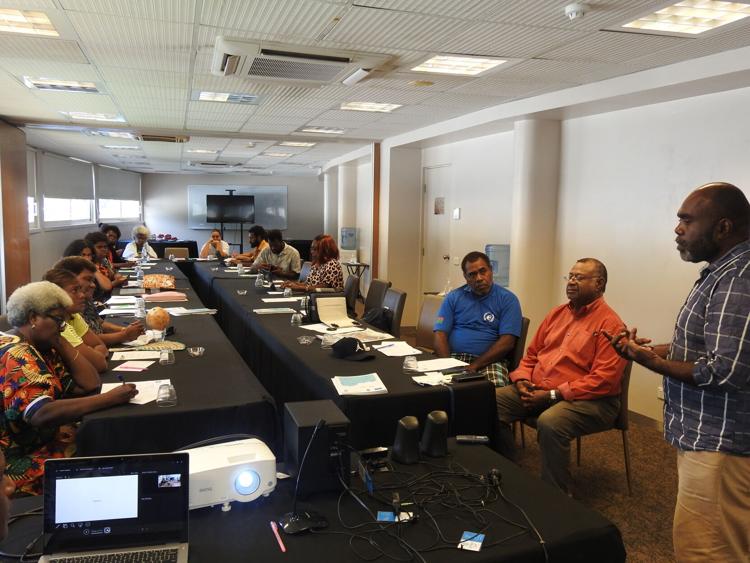 Vanuatu Association of NGOs (VANGO) and its members now have a better chance of influencing official decisions by speaking with one voice to the Government, individual Ministries and the national Aid Coordinating Committee.
"This will enable us to insert our policies in the policies of relevant Ministries and Departments to help us," Executive Member of VANGO and Chief Executive Officer (CEO) of Transparency (International) Vanuatu, Dr Willie Tokon said.
Breathing a sigh of relief, the CEO confidently said VANGO is now back to life.
Comprised of over 40 Non-Government Organisations and Civil Society Organizations, last Friday, heads of the NGOs present cheered an Officer from the Prime Minister's Office Aids Coordination Unit, Mr. Viran Tovu, when he supported a call by the VANGO Executive Members, who recommended that the best approach to seek Government financial assistance is not to isolate themselves from the Government but to prepare to partner with the government.
The senior public servant accepted an invitation from VANGO Executive to address the workshop on the Government Budget Processes and cycle.
In fact, his presentation, which is believed to be the first of its kind delivered at a VANGO workshop, immediately placed a smile on attendants' faces followed by loud applause.
The Budget Cycle Official supported the VANGO Executives' call for members of VANGO to liaise with their relevant Ministries through existing channels to seek funding for their respective projects.
Contributions from the Chairman of TIV Board of Directors, Joe Kalo and his CEO certainly helped to allow all members of the workshop present to feel a new level of confidence for the possibility of securing funding to develop their organisations.
Like in all sectors of life, money and lack of it remain the biggest challenge on the agenda today.
The presentation by Tovu has opened new doors for VANGO as the members now know where to go and what to do to have access to relevant official documents to seek financial assistance.
VANGO wishes to thank TIV for funding the one-day workshop at The Grand Hotel.
Even PIANGO addressed the workshop all the way from Fiji by Zoom, speaking highly of Vanuatu's Right To Information Act and saying Regional Members of PIANGO note Vanuatu's progress in that regard to learn from it.
Best wishes to VANGO as it functions to coordinate the important work of over 40 NGOS and CSOs in the country.