Vanuatu Business Review » World Blood donor day blood drive collects estimated 27 Litres of blood
World Blood donor day blood drive collects estimated 27 Litres of blood
June 14, 2022 10:33 pm | Posted in Business News | Share now TwitterFacebook
By Josepheen Tarianga.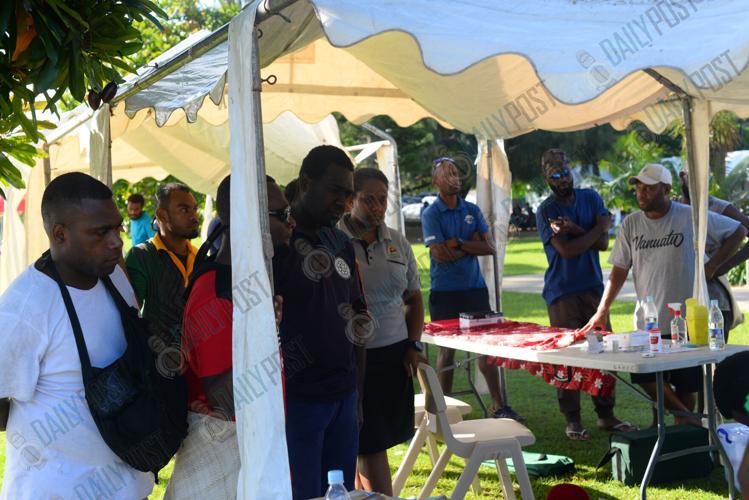 The blood drive hosted by Vila Central Hospital (VCH) at Seafront, Port Vila yesterday collected approximately 27 litres of blood, the equivalent of 18 full bottles of Vanuatu Water.
This comes as the VCH Laboratory's blood drive on World Blood Donor Day saw many people stepping forward to donate blood. 
This is a World Health Organization (WHO) initiative that VCH carries out annually on World Blood Donor Day. This day is celebrated in recognition of all those who lived through blood transfusions and all those who passed because of the lack of blood supply, explained Ezra Talo, the Officer in charge of the blood drive.
Those who donated blood were thoroughly screened through questionnaires and health checks. All donors were required to be 18 and above. 
"Today we had the goal of reaching 50 pints of blood, however today's turnup has exceeded what we had expected," Mr. Talo shared.
"By the day's end, we will probably have around 60 pints of blood to stock up the blood bank at VCH."
The human body has an average of 5 litres of blood, which is 10.5 pints. Each person who donated blood yesterday donated 1 pint of blood into a 450ml satchel. With 60 people donating blood, there would be exactly 27 litres of blood collected after yesterday.
The VCH blood bank is running low. Thus the laboratory is open to people anytime if they voluntarily want to donate blood, said Mr. Talo.
"I have donated blood before and i know it goes towards saving lives and it is giving back to the community.  Personally, before giving blood, i make sure i eat well," said Susan Waki, a repeat blood donor that attended the blood drive.
Ruth Garae who is a universal donor (Blood type O) shared her experience. 
"I donate blood often, i am a universal donor so i can donate to any blood types," she said. "I understand that this blood helps people in need so I donate to help. If you are donating blood, eat a lot of veggies and make sure to have a heavy meal after donating."
The blood collected in yesterday's drive will last 35 days before it is no longer useable.
Mr. Talo added despite the very good turnup of people to the drive, the VCH Laboratory faced difficulties because of the shortage of human resources and equipment.