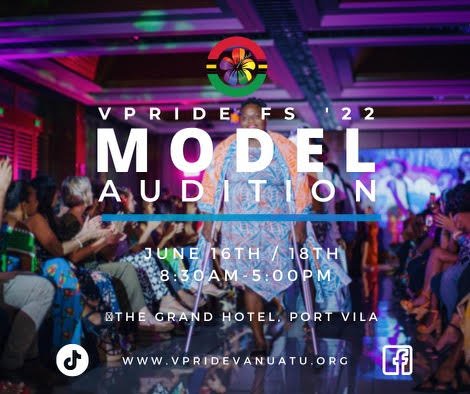 VPride Model Audition – Wotz On Vanuatu
VPride Model Audition
If you believe you got whatever it takes to be the model and promote inclusion and solidarity and believe the VPride Fashion show is your platform to showcase your strength, confidence and shine, a two (2) day audition is held at the Grand Hotel and Casino Vanuatu on the 16th and 18th of June 2022. It commences from 9am to 6pm.
Should you need more information please do not hesitate to inbox the VPride Facebook page https://web.facebook.com/VPrideFoundation
This year 2022 the show is expected to sell 600+ tickets to general public. Ticket price is yet to be released once the tickets are ready for purchase.
This is your time to SHINE! COME AND AUDITION!!